I was so glad for the opportunity to publish this article about being unemployed at 58 years old. This is not only a post about the struggles, but an inspiring post about not letting the situation get you down for too long.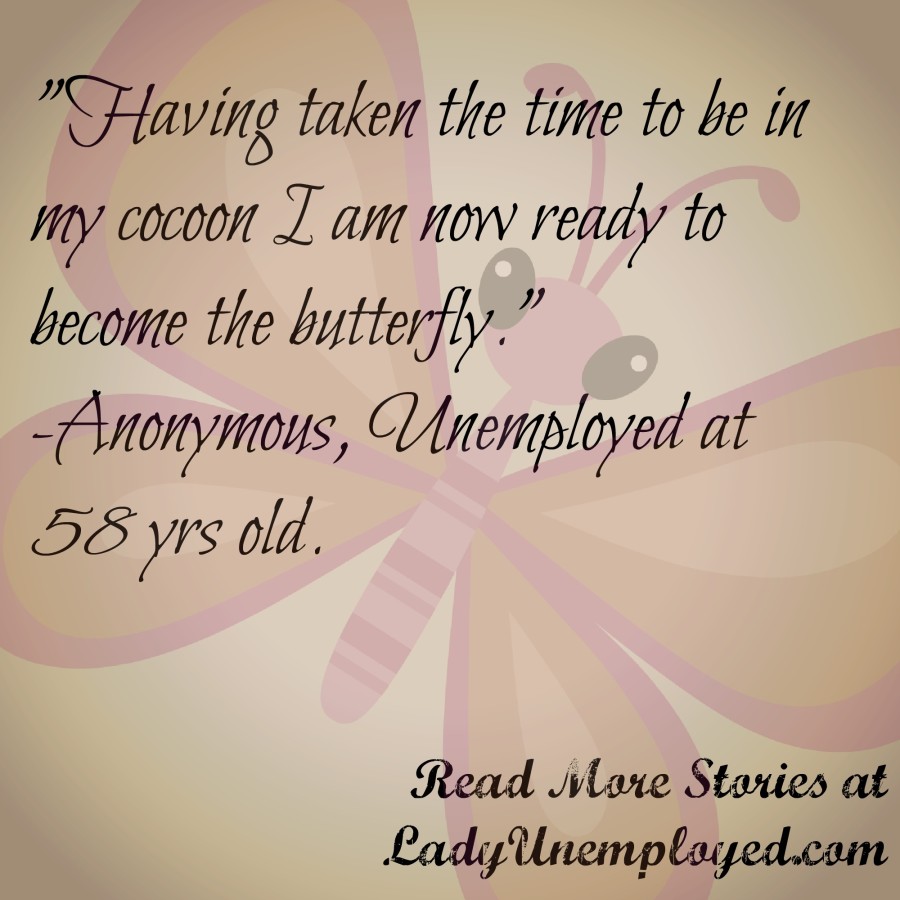 In 2011 I changed jobs. I left a very stressful, low paying job to better myself and reduce stress. Even though the new job was stressful during the training period, I knew in time the stress would subside. After the first year the stress level did subside and I was enjoying the new challenges. I was doing a good job and my boss was very pleased with my performance. I was given several raises and had worked up to $21.25 an hour within a short time.
In December of 2012 we were told the company had been sold. My boss who owned the company just turned 78 and it was time for him to sell. No one could blame him for this move. He did his best to ensure everyone would retain their jobs.
I have since learned that many times in an acquisition employees are told they will not lose their jobs, only for the opposite to happen several months later. This scenario is one that causes emotional turmoil once the employee truly is let go. That is exactly what happened to me.
It was in the company's best interest to keep me long enough to make the transition. Instead of being upfront and honest, they were deceitful. The right thing to do would have been to offer a stay on bonus to help with the transition, and a severance package if your position became redundant.
There was no severance package. I was only given the two weeks pay that was withheld when I started, and the two weeks vacation I had accrued.
Thus started my experience of being unemployed at age 58. This is not the first time I have been unemployed, but it is much different than being unemployed in my 20's, 30's, or even my 40's.
First off, at 58 I am tired. I started working when I was 18 years old, and there were many years while raising 3 children by myself that I worked 2 and 3 jobs to keep afloat. I never lacked for a job, with most job changes coming from someone seeking my employment. I live in a small community and know many people.
Once I was let go, I applied for unemployment and was fortunate enough to get the maximum for 21 weeks. However, I was unfortunate that the Federal Unemployment Extension is no longer available.
Checking all options I also sought legal advice regarding pains in my neck, arms, and hands that I suspected were caused by 40 years of keyboard work. I have a pending worker's compensation claim that the company's insurance is trying to deny. At my own expense I have had an EMG test done that shows I have a pinched nerve and carpal tunnel syndrome. The claim was started in September of 2012 and as of June 2014 I still have no compensation coming in, nor have I been allowed any medical treatment.
The next issue that presented itself in my new found unemployed state is I no longer have the means to take care of other health issues. Without insurance I cannot afford the cataract surgery I need. Without the surgery my vision is impaired and makes it difficult for me to work in office environments with many fluorescent lights and reports with small fonts.
The first few months without a job I was in shock. Some days all I could do was sit and cry. I was angry, hurt, scared, and tired. I knew that in a few short months I could find myself without any income and what little savings I had would be gone.
As I proceeded to search for a new job, I could tell my heart was just not into it. Being in such a small community, the good paying jobs are few and far between. I knew that my past salary was going to be hard to find. When I started seeing jobs I knew I was qualified for, I become distressed when I would see the pay being offered. Are they serious?
Don't get me wrong. Most of my working life I barely made enough to get by. That is why I worked 2 and 3 jobs. But at age 58, with 40 years of experience, it is hard to make myself want to work for minimum wage, or barely above.
So, each day that I faced the reality of being unemployed, my mind was churning and I was becoming depressed. Then I was given a unique gift that changed my whole perspective.
I was given the gift of 6 sessions with a Life Coach. I didn't even know what a life coach was, much less what she was suppose to do for me.
The Life Coach sessions were done by phone, as my Coach lives in Georgia, and I live in Oklahoma. From the very first session I knew this was something that was going to help me through a difficult time.
With the help of my Life Coach I was able to understand what change, and most certainly chaotic change, does to our bodies and our emotional state. During times of turmoil there is a 4 stage cycle that takes place. She explained to me that we can be like a caterpillar that turns into a butterfly. During the in-between stage it is neither a caterpillar, nor a butterfly. It is just goo. Goo inside a cocoon. The cocoon is a safe place. For us mere humans a cocoon can give us a place to be safe, and to just let go. The place where we can take time to rest, to heal, to re-group.
The next 3 stages are about dreaming and scheming. This process is one in which we take a good hard look at ourselves, where we have been, what we have experienced, and most importantly, where we want to go.
During the sessions with my Life Coach I was led through meditation and grounding exercises and was able to actually feel my body relax and start releasing the stress. The aches and pains I had were becoming more bearable. I found myself worrying less and allowing myself to be in my cocoon for a spell. I was giving myself permission to just be.
One of the most influential sessions I had with my Life Coach was the one that helped me learn about my Social Self versus my Essential Self. With this lesson I became aware of the times in the past that I was excited about my job, and the times that my job caused me to be totally out of sorts.
I was able to examine my social life in the context of social self versus essential self. This allowed me to accept that through the years I have become less social, and this is OK. I am not the same person at 58 that I was at 38, or even 48.
In the process of thinking all this through I realized I do not want to go back to work for someone else. Once this realization hit, I had to start thinking about how I am going to eat. For the time being my wonderful son has agreed to live with me and pay the bills. Without his help I would have no choice but to bite the bullet and take a job that may cause me to go against my Essential Self.
With my son's help I have been given the opportunity to scheme and dream. In doing so I have moved myself forward toward an answer. I have taken the steps to become a Certified QuickBooks Pro Advisor and am working toward creating my own business.
Having taken the time to be in my cocoon I am now ready to become the butterfly.
If you would like to share your unemployment story, please contact me at lady_unemployed@ladyunemployed.com.