I'm totally happy! Just like this![/caption]
I have some pretty exciting news!
In case you didn't hear, I had an interview last Wednesday. The interview went great and actually went better than any interview I've had so far. It's for a fantastic job that I can't believe I might get (entry level marketing…EXACTLY what I've been hoping for).
And guess what??
I received an email from them yesterday asking for my references!! I'm so excited!!
So we'll see where this goes. I'm pretty sure it's in the bag unless one of my references says something really awful. Here's hoping THAT won't happen.
On another note I received another blog award! It's from the blog Big A little a and it's called the Sunshine Award! I am so excited! Happiness all around everyone!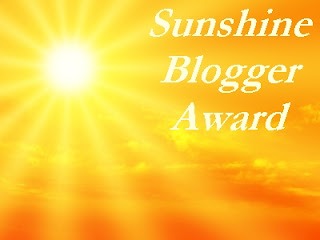 Here are the rules:
1) Include this award logo in either your acceptance post or somewhere in your acceptance. CHECK
2) Answer 10 questions about yourself. CHECK:
1. If you could live anywhere, where would you live?
Probably somewhere along the coast. If I could, by the beach. I don't care if it's a big or small town. If I am by the ocean, I'm a happy girl.
2.) If you could vacation anywhere, where would you go?
Ummm, see above.
3.) What's your favorite part of blogging?
Being able to share my experiences and read about the experiences of others. It is BEYOND rewarding.
4.) Coffee or hot chocolate?
Coffee!!! Love it day or night.
5.) What kind of coffee do you drink? What do you put in it?
I love dark roast coffee and I always add cream and sugar.
6.) What do you do to relax?
Relax? Huh? What's that? Hee Hee, kidding, sort of! Heh heh. Watching television helps me wind down.
7.) How do you keep calm in a very stressful situation?
Talking it through with people close to me! I've also been known to talk the ear off of the Baristas at Starbucks.
8.) Beautiful skies or clear skies with stars?
Clear skies with stars – it's cooler at night! And I'm a night owl, so that works for me.
9.) Dogs, cats or fish?
I love dogs! I don't own one but I would love to one day. I just don't get the appeal of fish as pets.
10.) Be honest, which last name do you like more, maiden or married?
Since I'm single, I find this question a tad cruel. Ha ha…but I don't like my (real life) last name, so unless my future husband has a last name that rhymes with anything in the genital area or a name that reminds me of a bodily function, I'm certain I'll like his better.
3) Pass the award onto 10-12 deserving bloggers.
Okay I'm doing the cop out response to this and rewarding my sunshine award to everyone who stops by my blog! Because all my readers give me sunshine and all of you deserve some love today!
4) Add a link on your post to all the talented winners and comment on their page to let them know they've deemed amazing.
Ummm…check!
5Thank the brilliant soul that recognized your talent and bestowed this wonderful award on you…and of course link back to them as well!
Check and check!
What a great week so far!!
I will be sure to let you know how everything plays out with this hopeful new job!