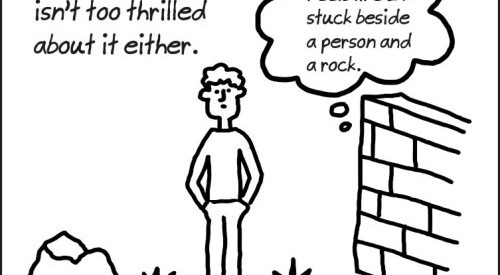 Lately at work I seem to be stuck between a rock and a hard place. The rock represents my desire to move up but the hard place represents the fact that I don't want to move up in my department. The bottom line is – I'm not moving up at work and it's (partially) my own fault.
This has resulted in a laborious feeling of continue to try and do a good job yet feeling stuck at the same time. I've already expressed to my boss(es) that I don't want to advance in the career track my role represents, but I don't want to stay in my current position. I've been in this role about a year and a half now and I am not learning anything new nor am I taking on new responsibility. I'm restless and unhappy with what I do.
What do I want to do instead, though?
I want to work with social media, blogging, and writing. Tragically, social media jobs right now pay minimum wage (a sign of their value, I think). And the only well paying job that deals with this type of work has a title of "management" slapped to it with the requirement you need five to ten years experience or more (has social media been around ten years by the way?).
I do look around, but I'm not finding anything. Plus, I'm left with this awful feeling of being disappointed I'm not getting recognized at work and yet hoping I can move on into a better suitable position, more than likely outside of this company.
And yes, I have told them the areas I want to work in – and it wouldn't be that far off the company would have work in those three areas – but they stare at me with a blank look like I've asked to lick their shoes clean. It obviously won't happen and I've told them twice now the areas I want to move into and how I feel about this current job.
so, I'm stuck between a rock and a hard place. I know I'm not alone and a lot of people are stuck these days – this blog is proof of that – but I just needed to vent about it.