I couldn't wait to post this, because this expresses a tragic truth of the job search. It's expensive and you are dug into a hole very difficult to get out of. Thank you to guest writer and fellow Twitter peep, Ed Tsyitee Jr. @GreenChileAdict.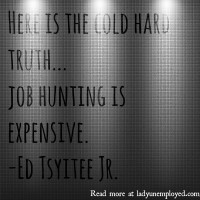 Here is the cold hard truth that career advisers and coaches will never tell you-job hunting is expensive.
I'm tired of hearing of all the free services that's available to you when you job hunt. Non-profits that offer resume writing, or free career counseling services at the local Workforce Solutions Center (the unemployment office). I know that.
But, job hunting is expensive.
While I sit here-unemployed-looking for a job, scouring the internet, reading my e-mail alerts, doing research on companies, my bills are piling up.
Rent is past due. Hello eviction notice.
Utilities are past due.
Cable/internet is off. Not that big of a deal-there is the library with their open unsecured internet service.
What about professional clothes for interviews? Have you ever shopped thrift stores for interview clothes that didn't scream "Boogie Nights"?
Here's the worst of it. The phone is off. There is no way to contact me other than e-mail.
Sure, I can apply for a survival job. Bring in money. But guess what? That takes at least 30 days from date of hire to first paycheck. Should I suspend the job search for 30 days? What if there is THE job I've been looking for?
Yeah, job hunting is expensive.
And when things get expensive, you stop doing them.
No wonder so many people give up looking and take whatever is available.