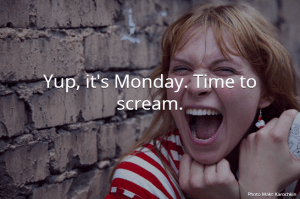 I decided to do a bit of a test on LadyUnemployed.com!
First, I want to try to post six times a week for 30 days. I have a lot of boring downtime at work, so I may as well see where this blog can go.
Second, I want to bring my Monday rant back! It was once called Monday Work Rant, but really, that leaves too many people out. There's a lot more going on Monday than just work to rant about (how about the lack of work? Or the commute? Or people who act like jerks in line? And so on, and so on)
So, let it begin! It's the Monday morning rant – so tell me what ails you. Is it your long commute? Bad day at work? Neighbors treating you terribly? Waiting for the phone to ring? Past due on bills and sick of collection calls? Unhappy family members?
Whatever it is, I want to know. What is your Monday morning rant?