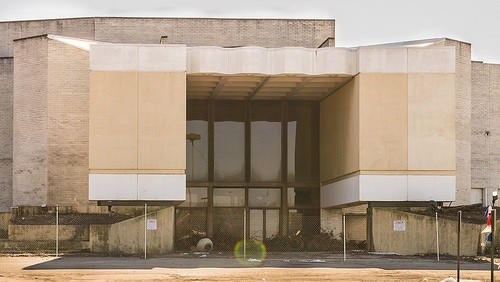 photo credit: Nicholas Eckhart The Old Mall via photopin (license)
For those who haven't heard Macy's is closing 68 stores this year.  Sears and Kmart are closing 150 stores. I pass a Macy's department store enroute home and the images of clearance posters are haunting. And now Payless Shoes has filed for Chapter 11 bankruptcy.  It seems like the mall as we know may be dying.
All of this has made me nostalgic. I think back to my childhood and teen years and think about how much fun I had going to the mall. Even if all the mall had was a few discount outlets, a coffee or ice cream shop, and some benches, you could still have a nice time. A few years ago, I visited a Barnes and Noble that I grew up near. I had spent my pre-teen years all the way to my early college years at this store. I even remember the day it opened. It was ironic and haunting when I heard recently it had closed. This was the bookstore I visited to find my 5th grade science experiment idea. It was the same one I sat in while writing short stories and poetry while I waited for my mom to pick me up when I was in high school. It was also the same one I met several first dates for coffee during my brief attempts at online dating in college. Not to mention, this was the place I bought all those countless books, journals, bookmarks, and coffees over the years.