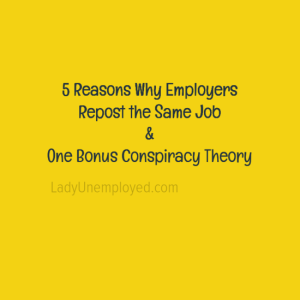 This past week my mom and older brother, who are both out of work, responded to job postings that later got reposted. In fact, after the second round of interviews, my mom found out that the job she was interviewing for was reposted!  How cruel is this?
I find this baffling, rude, and pointless. Pointless, because I wonder who this employer thinks they will get with this new listing. The odds are that the majority of applicants from the first round might reapply to that same job again.
Yet, aside from assuming employers are asshats and do this to be jerks, I decided to search online for an answer.
I found 5 reasons employers repost that makes the most sense to me.
1) There are multiple openings for the same position.
I think this is reasonable. The company I work for regularly hires for this entry level position and over the last 6 months, they've had a lot of people leave, and so that means they've hired multiple people to replace the ones who left. The job gets reposted, because there are multiple positions (the fact that one person left inside of two months is an entirely different story).