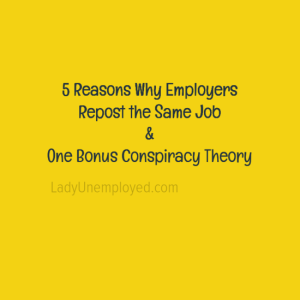 This past week my mom and older brother, who are both out of work, responded to job postings that later got reposted. In fact, after the second round of interviews, my mom found out that the job she was interviewing for was reposted!  How cruel is this?
I find this baffling, rude, and pointless. Pointless, because I wonder who this employer thinks they will get with this new listing. The odds are that the majority of applicants from the first round might reapply to that same job again.
Yet, aside from assuming employers are asshats and do this to be jerks, I decided to search online for an answer.
I found 5 reasons employers repost that makes the most sense to me.
1) There are multiple openings for the same position.
I think this is reasonable. The company I work for regularly hires for this entry level position and over the last 6 months, they've had a lot of people leave, and so that means they've hired multiple people to replace the ones who left. The job gets reposted, because there are multiple positions (the fact that one person left inside of two months is an entirely different story).
Source: http://www.askamanager.org/2010/08/what-does-it-mean-that-job-i.html
2) They want to keep the candidate pool open and active until the job offer is accepted.
I like the idea of this, although it does put a bit of a Pollyanna spin to the whole idea of job searching and applying. Somehow I wonder how picky do they think job seekers are these days that they worry one or several people may decline the position offered.
Source: http://www.prepary.com/what-does-it-mean-if-a-job-is-reposted-while-im-interviewing/
3) An overly obsessive perfectionist hiring manager who wants Mr. or Mrs. Perfect Job Applicant.
I think this makes the most sense to me. Unless you fit the ideal image of what they are seeking, you may see the job you are interviewing for get reposted until they find just the right one. I think this is a sign of a bad boss and one that is never satisfied.
Source: http://www.indeed.com/forum/gen/Job-Interviews/Employers-reposting-jobs-after-weeks-interviews/t444168
4) The person they hired didn't like the job.
I remember I walked off a job that I had for just one week. When I ended my first week in tears, I knew it wasn't the right fit. So, I am sure the job ad got reposted in no time flat. Which means someone out there saw that repost. Hopefully they re-applied and it worked out for them better than it did for me.
So, if you have applied to something and a month later you see it posted again, you can probably assume that someone out there didn't like the job.
Source: http://www.cluewagon.com/2009/08/5-reasons-the-employer-re-posted-the-ad/
5) The required number of candidates haven't applied to the position.
For companies that are a touch on the massive side or ones that have strict guidelines and rules about job postings, I could see this being a likely reason that a job gets reposted. If they don't have enough people moving onto the next stage, they may repost to see if they can increase the pool of possible applicants to satisfy HR expectations.
Source: http://www.askamanager.org/2010/08/what-does-it-mean-that-job-i.html
6) Bonus Conspiracy Theory: The repost isn't the employer at all, but a sneaky job candidate hoping to see what their competition is like.
I spotted this horrible "tip" once when I was looking for job search tips. A site recommended you post a job online similar to the job you are looking to find and see who replies.
For these reposts, especially when they are just one week within the post date (and most especially on sites like craigslist), I wonder if someone out there, just copies verbatim what the other job ad was (maybe that real one you applied to) and reposts to see what the competition is like (and even reduce the pool of applicants to the real ad).
Obviously, this is why I described this as my conspiracy theory, but I think there may be a little truth to this.
Bottom line is that as the job market gets worse, job searching will become more like the Hunger Games.