This may be a strange post coming from me, especially because I am a big believer in a healthy dose of competition. In fact, I think it can improve your skills, increase your stamina, and motivate you to do better.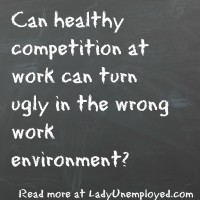 But today I am wondering if healthy competition at work can turn ugly in the wrong work environment?
I ask because a (newly discovered) disgruntled coworker got competitive with me over something I had been handling pretty much independently. I have no trouble working with someone but it took me by surprise to see her hand in it (and not exactly in a nice way).