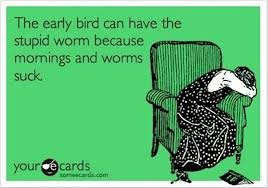 You know that expression, "The early bird catches the worm"?
I'm certain whoever said that expression first didn't work around the type of people I do.
Today was a "testing day" to test a new software at work and we were expected to out in extra hours if we needed to. You all know my growing aversion to overtime, so I politely disregarded that request. And yes, I know that isn't very "responsible adult" of me.
Anyways…
My difficult coworker sent out an email to the whole company announcing the time she came in.
Okay, I exaggerate. There was more to the email than that. But basically, that's what it was for.
And guess what time she came in?
5:30 in the morning.
Five. Thirty. In the morning.
I'm not even awake yet.
Now, yes. This shows how eager she is and she looks like the early starter she is supposed to.
Here's what pisses me off about it.
The thing is she doesn't want to stay late, but everyone who works there gives off the impression that staying late into the evening is a requirement. That if you aren't staying late in the night, and working 85 hours a week, you are half-assing your job. And people need to SEE your butt in the seat. Even if you work overtime from home, it doesn't count. If people see you leave on time, you aren't doing enough.
My difficult coworker knows this.
So every time she comes in early, she announces it to everyone so they know how she isn't a lazy ass for not staying until 10 o'clock at night. No one comes in early but her. So she has no witnesses to her overtime. Which is why these emails and announcements are made on a regular basis on what time she comes in.
Sigh…
Yes, I know. I need to get a hobby.