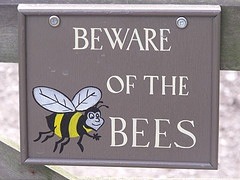 So…unfortunately, my good news from last week fell through. And I'm still at the job I complained about a few weeks ago.
How did this happen?
Well, several weeks ago, I heard from a former coworker who asked me if I was still looking for a job. Thinking about my present job situation (and my dislike for it), I told him that I was open to this new position. He gave me the email of the person hiring and I sent them my resume.
…and then I heard back from them and she asked me about setting up an interview! Yay, right?
Hmm…sort of, yay. Because then I asked about pay. No, this isn't something I would usually do if I wasn't already employed, but I felt like I had the right to know and I wasn't so desperate that I wanted the drop in salary.
And when I pushed the issue, she said, "I'll pass."
I'll pass? Are you kidding me??
Thinking I had avoided quite the difficult employer, I was relieved, albeit a tad disappointed for the missed opportunity.
And then a couple of weeks after that…I heard from her again. She actually called me and explained herself. She apologized for the brush off, but said that she usually liked meeting someone before agreeing to a salary. She asked me if I could meet with her for an after work coffee to discuss the position and then if we both think it's a right fit, she could agree to my salary requirement.
And I agreed. I thought it was pretty cool she was upfront and wanted to pursue it.
Well, we met and at first, I was very impressed. She was an upfront lady and took chances on people. She explained she hired a guy with cerebral palsy, hired another person with commitment issues, and now she was considering hiring me (which made me wonder what my ailment was). I felt so sure of this! When we parted, we set up a time when I could meet with the team and get a bigger picture of the company.
The thing is though I had to take the next week off. I had a family emergency to take care off (yup, a real one, hence my blog absence!) and told her when I got back I'd be able to start. She said okay at first, but that I would still meet with her team that Friday to confirm everything. She would email me the details that night.
A day goes by.
And then another (I'm getting concerned by this point).
So I email her about Friday and then she sends me this:
"Thanks for the follow up.
Sorry to say, I did hire someone yesterday and she is available to start tomorrow."
What the hell is that??? I got burned twice by that woman! So the lesson here is:
Believe people the first time.
The second she told me, "I'LL PASS," I should have steered clear. And now I'm back at square one at a job I am unhappy at. Although the good thing is there is a new guy starting Monday and my hope is that he is tall, good looking, single, and interested in me. Heh heh…